Mobile Products
Tokyo in hipix - Free iPad album
"Tokyo in hipix" is an interactive, high resolution album for the iPad which includes 24 high quality pictures of Tokyo, totalling over 2 Gigapixel, wrapped in a single 100 Megabyte hipix® file. The application is based on a set of brilliant images by photographer Tomoyuki Uchida, enhanced with interesting links, sound and animation made possible by hipix®. Downloading this album will allow you to locally navigate huge images of Tokyo, some over 300 Megapixels on your iPad.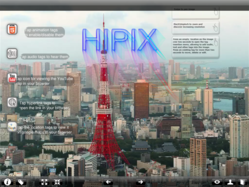 hipix plus beta - Socially Created Talking Pictures
hipix plus™ allows adding sounds, voices, links, contacts and more to your pictures. Share cool media-rich pictures at a fraction of the original JPEG file size from your smartphone, tablet or PC. read more
hipix™ beta
hipix™ is a user friendly application, which reduces the size of the handset's captured JPEG pictures and allows sending audio annotated, reduced size hipix™ images in four touches of the screen. One to launch the application, second to select the desired photo from the handset's gallery, third to record your audio annotation, and forth to send the HPX file via the user's default eMail service. The hipix™ application allows compressing the pictures using fixed quality and resolution, which was set to allow maximal compatibility with other smartphones and PCs.

The application is very simple to use, and its main advantages lies in the compression scheme's ability to compress the images more efficiently than any other existing still image compression scheme, and in its ability to annotate easily audio to the picture file. The output files of hipix can be viewed with most of the video players in the market (either mobile or PC viewers), and they can even be uploaded to Facebook to you video files section.

hipix plus™ beta
hipix plus™ is a user friendly application, which transcodes digital photo files of various formats (JPG;TIFF;PCX;BMP etc.) to the hipix™ HPX file format, maintaining high quality image, while reducing the file size significantly

The application allows transcoding and single-click sending of the resulting HPX files via the user's default eMail service.

hipix plus™ allows annotating various kinds of tags to specific spots of the picture. The tags are saved encapsulated in the image file.

hipix plus™ allows compressing digital photo files by using one of many preset levels of quality, or to a specified file size.

The application is simple to use, and its main advantage lies in the compression scheme's ability to compress the images more efficiently than any other existing still image compression scheme. To put it simple: The hipix plus™ produces better image resolution and/or quality at smaller files